The Ubaye river and its valley in the Alpes-de-Haute-Provence
In addition to rafting and white water sports, discover a preserved valley with multiple activities…
The Ubaye River
In the Ubaye Valley, the Ubaye river is so important that it gave its name to the valley, which extends from the Italian border to the Ubaye >Lake of Serre-Ponçon and the Mercantour National Park.
North of the Alpes-de-Haute-Provence, between Barcelonnette and the ski resorts of Pra Loup and Sauze – Super Sauze, Ubayeis a magnificent valley to discover or re-discover by rafting.
Unlike its neighbor the Verdon, the Ubaye is a river with an entirely natural regime: there is no dam on its course. So from spring to autumn it is possible to sail every day. Due to its natural flow, the Ubaye changes its appearance throughout the seasons, its flow being subject to melting snow and rain. Each flood can also modify its course. Lovers of white water must adapt to its whims!
It is at the exit of the Saint-Paul gorge on Ubaye that the navigation begins. Going down towards La Condamine then Jausier, this part called the "Haute Ubaye" is only navigable at high water, therefore especially in spring.
The river then calms down to cross Barcelonnette, at the foot of the ski resorts of Sauze and Pra Loup. It then widens to head towards Les Thuiles. This easy route serves as the stage for the Baby Raft in summer.
From our base come the most renowned sections. 4 magnificent courses follow one another:
Thuiles – Fresquière: An ideal route to discover canoeing, hydrospeed or raft > with the family during the summer and which offers impressive waves in the spring
The Ex-infrans from the top: Very supportive and sporty, incomparable sensations of speed. Only accessible in summer
Martinet – Lauzet: The classic course, accessible to all in summer with many rapids and an unrivaled setting. Sporty and voluminous in high water.
The Ex-infrans of the Bas: At the heart of the imperial gorge, it is the most difficult and challenging of all. Reserved for professionals.
To this, we must add the Bachelard, a tributary coming from the Mercantour National Park with a breathtaking setting and very, very chained rapids… Only accessible in spring for experienced crews .
Of rare beauty and intensity, these sections attract kayakers from all over the world every year. Ubaye also knows how to be appreciated by competitors such as during the French championships or the Ubayak festival.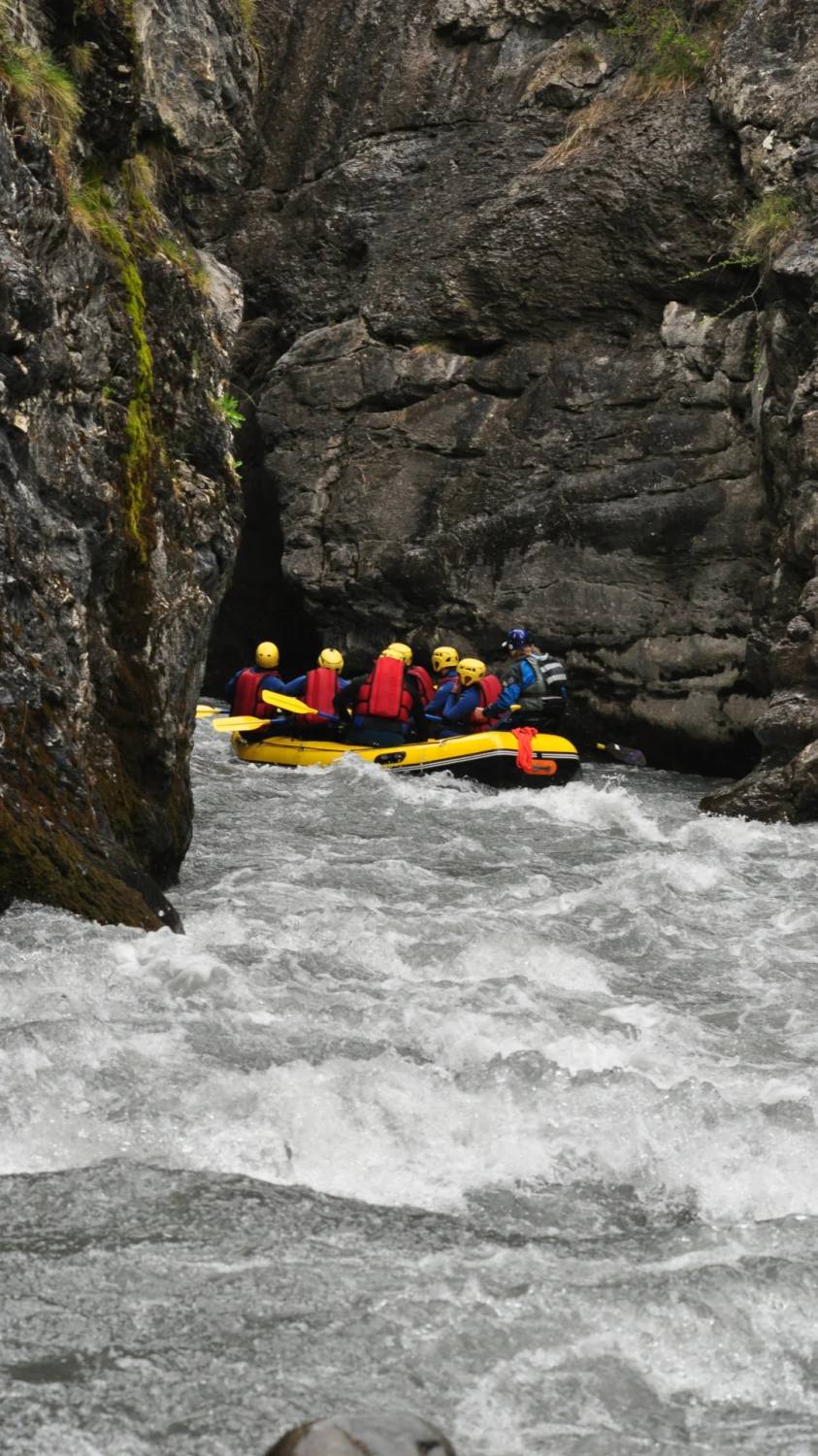 The paths
Find details of the different possible routes on the Ubaye River depending on the seasons and the water level.
Not all routes are passable at the same time.
We reserve the right to modify the activity routes depending on the water level and the state of the river.
You will find more information on the different routes on the pages of the different activities